Goodwin v. Miller
From Wythepedia: The George Wythe Encyclopedia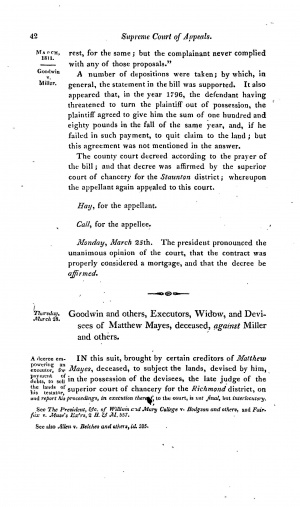 Goodwin v. Miller, 16 Va. (2 Munf.) 42 (1811),[1] was a debtor/creditor case.
Background
Creditors sued Matthew Mayes' devisees. The creditors prayed the Court would allow them to satisfy Mayes' debts from those who inherited Mayes' property.
The Court's Decision
Chancellor Wythe decreed that since the land was already seized by Mayes creditors prior to his death, the executors of Mayes estate had to sell however much land was necessary to satisfy those debts. The Court of Appeals reversed after finding that the Chancellor's statement was an interlocutory decree (temporary and not intended to be final) and dismissed the bill, remanding for further proceedings.
See also
References
↑ William Munford, Reports of Cases Argued and Determined in the Supreme Court of Appeals of Virginia, (New York: I. Riley, 1814), 2:42.