Freelands v. Royall
From Wythepedia: The George Wythe Encyclopedia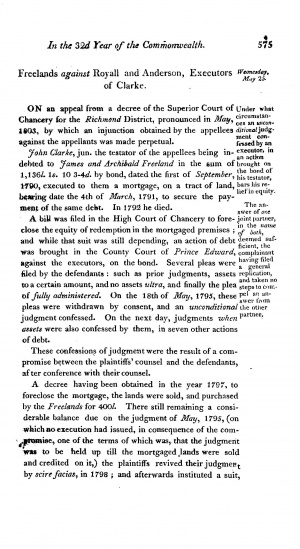 In Freelands v. Royall, 12 Va. (2 Hen. & M.) 575 (1808),[1] the court determined under what circumstances an unconditional judgment by an executor can bar his relief in equity.
Background
John Clarke, Jr. the heir of the Clarke estate was indebted to James and Archibald Freeland for a total of about £1,136. To satisfy the debt, Clarke gave the Freelands a mortgage on a tract of land dated March 4, 1791. In 1792, Clarke died. The Freelands brought suit in the High Court of Chancery to foreclose on the property, but while the suit was pending another debt collector filed against the same property in the County Court of Prince Edward. There was a conference held between the multiple parties and in 1797, the property was foreclosed, sold, and purchased by the Freelands for £400. Since the total debt was not satisfied by the foreclosure, the Freelands went to collect the remainder of the debt from the rest of the estate. The executors of the estate brought suit for an injunction stating that the Freelands bought the foreclosed property for much less than its property value and the debt was satisfied.
The Court's Decision
In May 1803, Chancellor Wythe decreed that the injunction obtained by the Executors of Clarke against the Freelands should be made perpetual. The Court of Appeals reversed the decision and dismissed the injunction of the Executors.
See also
References
↑ William Hening and William Munford, Reports of Cases Argued and Determined in the Supreme Court of Appeals of Virginia: with Select Cases, Relating Chiefly to Points of Practice Decided by the Superior Court of Chancery for the Richmond District (Flatbush, N.Y.: I. Riley, 1809), 2:575.