Flemings v. Willis
From Wythepedia: The George Wythe Encyclopedia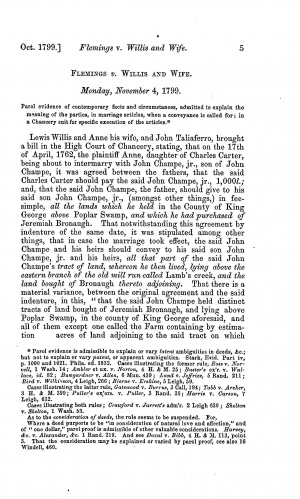 Flemings v. Willis, 6 Va. (2 Call) 5 (1799),[1] was land dispute case.
Background
Anne Willis was the former widow of John Champe, Jr. As part of their marriage agreement, John Champe, Sr. agreed to give his son (John Champe, Jr.) all the land above Poplar Swamp. He also stipulated that if the marriage actually took place, he would also give John Champe, Jr. his Lamb's Creek estate, except for the farm. Upon John Champe, Sr.'s death, William Champe, his eldest son, was in charge of executing his father's will and never gave a deed for any of the property to John Champe, Jr. except for an estate in fee tail in the Poplar Swamp. In 1774, John Champe, Jr. died conveying a life-estate of his real and personal property to Anne and the remainder to John Taliaferro. Anne, her husband Lewis Willis, and John Taliaferro brought this suit against William Champe's devisees (the Flemings) for their portion of the property.
The Court's Decision
Chancellor Wythe declared in favor of Anne Willis. The Court of Appeals affirmed.
See also
References
↑ Daniel Call, Reports of Cases Argued and Adjudged in the Court of Appeals of Virginia, 3rd ed. ed. Lucian Minor (Richmond: A. Morris, 1854), 2:5.