Fleming v. Bolling
From Wythepedia: The George Wythe Encyclopedia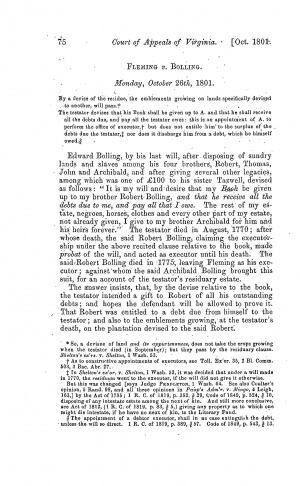 Fleming v. Bolling, 7 Va. (3 Call) 75 (1801),[1] was a case where the court determined whether a book of debtors (people who owed the descendant) was a beneficial conveyance and could be used by its owner to extinguish the owner's debt from the estate.
Background
Edward Bolling devised his estate among his siblings. To his older brother, Robert, Edward left a book as well as of the debts owed to him and any debts he owed. To his brother Archibald, Edward left the rest of his estate that was not already given. Upon Robert's death, Archibald sued Edward's testator, Fleming, for an account of the rest of Edward's estate. Archibald actually owed Edward and was hoping that Robert's inheritance would be passed to Archibald and extinguish his debt as well as give Archibald more money.
The Court's Decision
Chancellor Wythe decided that Edward giving his book (book of debtors) to Robert was not a beneficial conveyance and that Archibald's debt to the estate would not be extinguished. He also decreed that the assets Robert thought he inherited from Edward's property (debts owed Edward) were actually Archibald's and should be given to Archibald. Fleming, the executor of Edward's estate, appealed. The Court of Appeals affirmed the decree.
See also
References
↑ Daniel Call, Reports of Cases Argued and Adjudged in the Court of Appeals of Virginia, 3rd ed, ed. Lucian Minor (Richmond: A. Morris, 1854), 3:75.