Fitzhugh v. Foote
From Wythepedia: The George Wythe Encyclopedia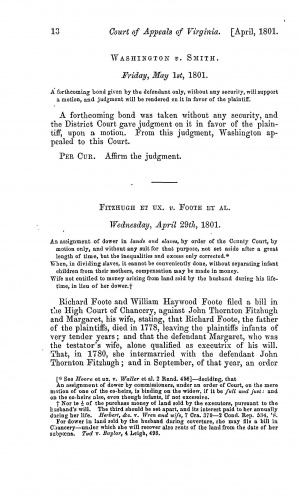 Fitzhugh v. Foote, 7 Va. (3 Call) 13 (1801),[1] was a case involving the division of an estate between a widow and her children.
Background
Richard and William Foote sued their step-father, Thornton Fitzhugh, and their mother, Margaret, in the high court of chancery. Margaret was left as the sole executor of the plaintiffs' father's estate and upon his death, she held a proceeding giving herself a very valuable dower. Her children, who were minors at the time, were not represented at the court proceeding and brought this suit to ask for equality and fairness in the distribution of inheritance between them and their mother.
The Court's Decision
Chancellor Wythe decreed that the slaves should be split into three equal parts with one-third going to each of the parties. The Court of Appeals reversed in splitting the slaves (since "humanity forbids" separating mothers and children) and instead caused for monetary compensation to be given to the plaintiffs for the excess slaves the mother obtained. The case was then remanded to the High Court of Chancery.
See also
References
↑ Daniel Call, Reports of Cases Argued and Adjudged in the Court of Appeals of Virginia, 3rd ed., ed. Lucian Minor (Richmond: A. Morris, 1854), 3:13.