Fitzgerald v. Jones
From Wythepedia: The George Wythe Encyclopedia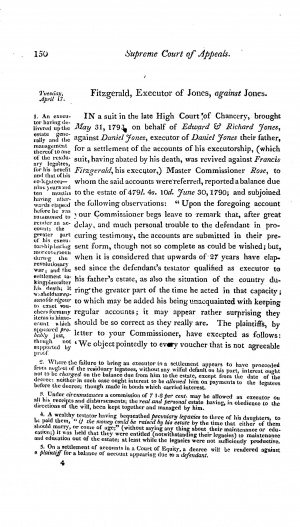 Fitzgerald v. Jones, 15 Va. (1 Munf.) 150 (1810),[1] was a trust and estates case.
Background
Edward and Richard Jones filed the original suit in the High Court of Chancery against their father's executor Francis Fitzgerald, to settle their father's estate and receive their share. Fitzgerald was their father's former executor, who had turned his duties over to Edward Jones nine years prior.
The Court's Decision
Chancellor Wythe held a trial to determine how much profit was made for the tobacco on the Jones' property. After the jury came to a conclusion, Chancellor Wythe, in addition, decided that Fitzgerald was to pay to Edward Jones over £424 with interest and that the other plaintiff, Richard Jones (who after investigation had received more than his fair share of the estate) pay Fitzgerald about £36 with interest. He also decreed that both parties bear their own costs. The Court of Appeals reversed and remanded to the High Court of Chancery.
See also
References
↑ William Munford, Reports of Cases Argued and Determined in the Supreme Court of Appeals of Virginia, (New York: I. Riley, 1812), 1:150.