Eppes v. Randolph
From Wythepedia: The George Wythe Encyclopedia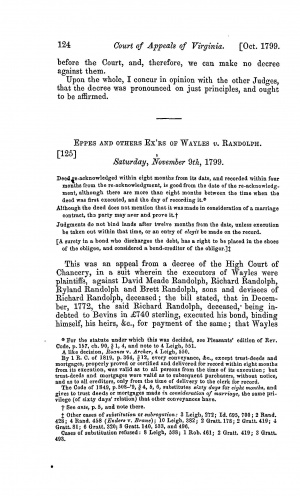 Eppes v. Randolph, 6 Va. 124, 2 Call 125 (1799),[1] was a case where the court determined if creditors could recover when the indebted landowner conveyed his estate to his sons in order to avoid the loss of his estate.
Background
Richard Randolph was greatly indebted and knowing that his entire estate would go to his creditors upon death, wrote a will conveying property, some of which had already been seized, to his sons. Eppes and other creditors sued requesting a discovery of Randolph's personal estate and that if the personal state is insufficient, that the creditors can satisfy the debt with the land conveyed to Randolph's sons.
The Court's Decision
Chancellor Wythe dismissed the case with costs. The Court of Appeals reversed.
See also
References
↑ Daniel Call, Reports of Cases Argued and Adjudged in the Court of Appeals of Virginia, 3rd ed, ed. Lucian Minor (Richmond: A. Morris, 1854), 2:125.