Deneale v. Morgan's Ex'ors
From Wythepedia: The George Wythe Encyclopedia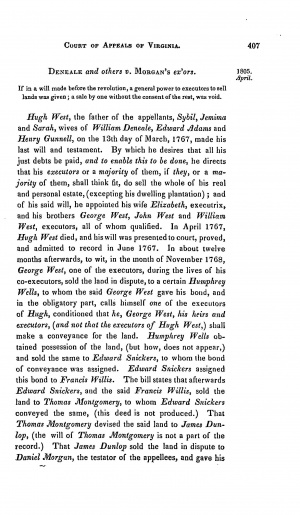 Deneale v. Morgan's Ex'ors, 9 Va. (5 Call) 407 (1805), [1] was a case involving the secret selling of land by one executrix without the consent of the rest.
Background
Case brought by the Son-in-laws of Hugh West over the selling of a portion of his property by George West, an executor of the estate. Hugh West had chosen three people to be the executrix of his estate but George West sold the property unilaterally and without the consent or the approval of the other executors. Through a series of exchanges, Daniel Morgan was living on the property at the time, the son-in-laws brought an action of ejectment against the property. Morgan, then filed a case in the high of court of chancery against the appellants for the ejectment action.
The Court's Decision
Chancellor Wythe granted the injunction to Daniel Morgan. The Court of Appeals dissolved the injunction, reversing the decision.
See also
References
↑ Daniel Call, Reports of Cases Argued and Decided in the Court of Appeals of Virginia, (Richmond: R. I. Smith, 1833), 5:407.