Deanes v. Scriba
From Wythepedia: The George Wythe Encyclopedia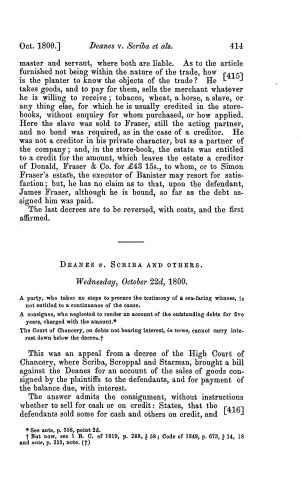 Deanes v. Scriba, 6 Va. 414, 2 Call 415 (1800), [1] was a case where the court determined how the court was to proceed when a party could not procure a key, yet seafaring witness.
Background
Scriba, Scroppal, and Starman sued the Deanes for the balance of an account in which the plaintiffs sold the Deanes a cask of snuff-boxes. The original contract did not include whether the goods should be sold for cash or credit, nor did it contain the total balance due with interest.
The Court's Decision
In order to discover the total amount owed, Chancellor Wythe requested the account be investigated by the commissioner. However, the Deanes often requested to postpone the commissioner's report while trying to get the deposition of a witness who was often overseas. Wythe decreed that the defendants pay the plaintiffs 495 pounds 15 shillings and 3 dollars with interest. The defendants appealed. The Court of Appeals reversed the ruling.
See also
References
↑ Daniel Call, Reports of Cases Argued and Adjudged in the Court of Appeals in Virginia, 3rd ed., ed. Lucian Minor (Richmond: A. Morris, 1854), 2:415.