Davenport v. Mason
From Wythepedia: The George Wythe Encyclopedia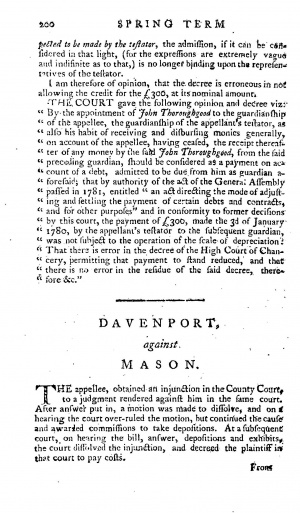 Davenport v. Mason, 2 Va. (2 Wash.) 200 (1796),[1] was a brief case involving an injunction from a lower court.
Background
The County Court granted Mason an injunction to a judgment rendered against him in the same court. An answer was filed requesting the court dissolve the case, but the court overruled the motion, continuing the case and awarding commission to take depositions. At a subsequent hearing the court dissolved the injunction and decreed that Mason pay court costs.
The Court's Decision
Wythe reversed the decree of the County Court and gave a perpetual injunction. The Court of Appeals affirmed.
See also
References
↑ Bushrod Washington, Reports of Cases Argued and Determined in the Court of Appeals of Virginia, (Richmond: T. Nicolson, 1799), 2:200.