Dangerfield v. Rootes
From Wythepedia: The George Wythe Encyclopedia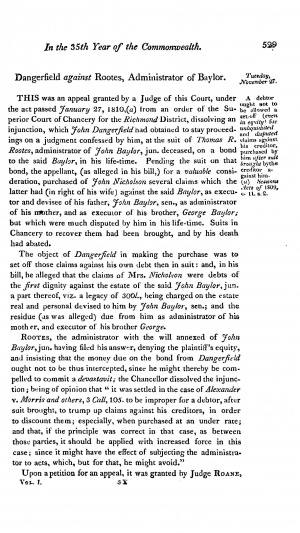 Dangerfield v. Rootes, 15 Va. (1 Munf.) 529 (1810), [1] the court determined whether a debtor can purchase and off-set claims against his creditor after the creditor has already sued him for his debt.
Background
In an earlier case, John Dangerfield confessed to owing a bond to Thomas R. Rootes, the administrator of John Baylor Jr's. After receiving a judgment in that case, Dangerfield requested an injunction from the High Court of Chancery to stay the proceedings. While the suit was pending in the High Court of Chancery, Dangerfield purchased bonds from a John Nicholson against John Baylor's father who was the executor of his estate. Dangerfield then brought suits in Chancery to recover these bonds but due to his death the cases were abated.
The Court's Decision
Chancellor Wythe dissolved the injunction because he believed the case was settled in Alexander v. Morris that it was improper for a debtor, after bringing suit, to trump up claims against his creditors in order to discount them. The Court of Appeals unanimously affirmed.
See also
References
↑ William Munford, Reports of Cases Argued and Determined in the Supreme Court of Appeals of Virginia, (New York: I. Riley, 1812), 1:529.