Dandridge v. Harris
From Wythepedia: The George Wythe Encyclopedia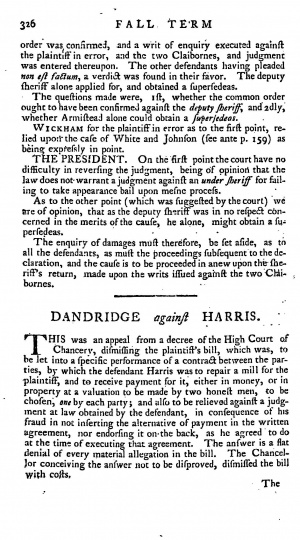 Dandridge v. Harris, 1 Va. (1 Wash.) 326 (1794), [1] was a contract dispute case.
Background
The defendant Harris entered into a contract with Dandridge to repair Dandridge's mill. The payment for the repair was to either be in cash or in property for a value to be decided by the two men. Harris sued Dandridge for specific performance after Dandridge refused to insert the alternative form of payment in the written agreement or to endorse the alternative payment on the back of the agreement as Dandridge agreed to do.
The Court's Decision
Chancellor Wythe dismissed the case. The appellate court reversed.
See also
References
↑ Bushrod Washington, Reports of Cases Argued and Determined in the Court of Appeals of Virginia, (Richmond: T. Nicolson, 1798), 1:326.