Dandridge v. Dorrington
From Wythepedia: The George Wythe Encyclopedia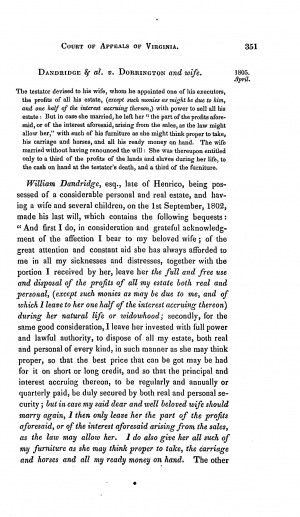 Dandridge v. Dorrington, 9 Va. (4 Call) 351 (1805),[1] was a case where the court determined a widow's entitlement to her husband's estate after failing to renounce his will and remarriage.
Background
William Dandridge left a will bequeathing all of his real and personal property to his wife, the plaintiff, so long as she remained a widow. However, if she married again, his wife would obtain the interest from the sale of the property and a portion of the furniture. The plaintiff was also made executrix of the estate. In September 1804, the plaintiff married Mr. David Dorrington and sued her children in the Court of Equity for the settlement of her administrative account and to obtain her allotment of the will. At the time of the petition, the plaintiff did not denounce the contents of the will.
The Court's Decision
Chancellor Wythe gave the plaintiff the amount of profits and interest she had gained during her widowhood as well as one third of the land, slaves, personal estate, and furniture upon her marriage. The Court of Appeals reversed and annulled, setting grounds for a new form of settlement.
See also
References
↑ Daniel Call, Reports of Cases Argued and Decided in the Court of Appeals of Virginia, (Richmond: R. I. Smith, 1833), 4:351.