Dalby v. Price
From Wythepedia: The George Wythe Encyclopedia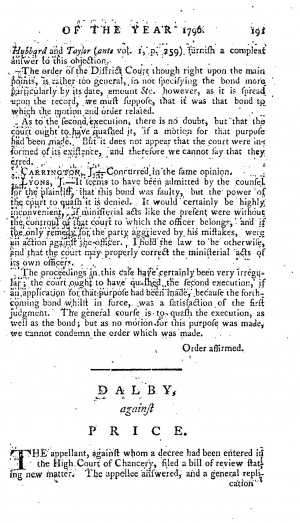 Dalby v. Price, 2 Va. (2 Wash.) 191 (1796),[1] the court determined the extent of time needed to procure depositions for trial.
Background
After losing the initial case, Dalby, the appellant, filed a new matter in the court of chancery. Price answered and a general replication was entered. In less than a month after the proceedings, the case was set down and heard, depriving Dalby a chance to obtain adequate depositions.
The Court's Decision
The Court of Appeals reversed the action of the High Court of Chancery for hearing the case and ordered the case be remanded to the Chancery's rule docket. The Court also stated that all cases where a general commission issues the taking of depositions should have six months from the time of replication before the bringing the case for a hearing.
See also
References
↑ Bushrod Washington,Reports of Cases Argued and Determined in the Court of Appeals of Virginia, (Richmond: T. Nicolson, 1799), 2:191.