Curry v. Burns
From Wythepedia: The George Wythe Encyclopedia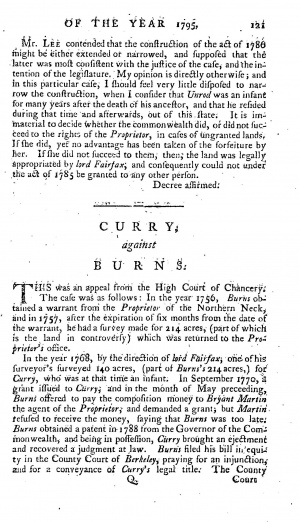 Curry v. Burns, 2 Va. (2 Wash.) 121 (1795),[1] was a land dispute case.
Background
In 1756, Burns obtained an order from the Landowner of the Northern Neck for a plot of land. The next year, six months after the warrant expired, Burns had a survey made for 214 acres of the property, which had already been returned to the Landlord's office. In 1768, a survey was ordered by Lord Fairfax for 140 acres (and part of Burn's 214 arced land). The land was then given to Curry, who was a minor at the time. In May 1770, Burns offered to pay the composition money to an agent of the Landlord for the property, however, Burns was told he was too late. That September, a grant was issued to Curry to obtain the property. In 1788, Burns obtained a land grant from the Governor of the Commonwealth and although he had possession of the grant, Curry sued to evict Burns and recovered a judgment at law. Burns countersued Curry for an injunction and for the legal title of property.
The Court's Decision
Chancellor Wythe affirmed the County Courts perpetual injunction and conveyance in favor of Burns. The Court of Appeals reversed.
See also
References
↑ Bushrod Washington, Reports of Cases Argued and Determined in the Court of Appeals of Virginia, (Richmond: T. Nicolson, 1799), 2:121.