Croughton v. Duval
From Wythepedia: The George Wythe Encyclopedia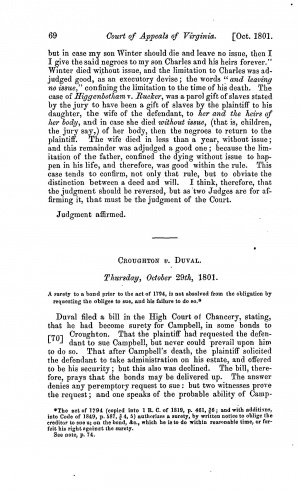 Croughton v. Duval, 7 Va. 69, 3 Call 70 (1801), [1] was a case where the court determined whether a co-signer can absolve his obligation, if he requests the creditor sue the borrower, but the creditor refuses to do so.
Background
Duval cosigned on Campbell's loan from Croughton. After co-signing, Duvall, on multiple occasions requested Croughton sue Campbell for his loan. However, Croughton never did. After Campbell died, Duval again asked Croughton to take over Campbell's estate to satisfy the debt. However, again Croughton declined. Duval then sued Croughton in the High Court of Chancery requesting that the loan be delivered up (eliminate Duval's obligation to pay.)
The Court's Decision
Chancellor Wythe granted a perpetual injunction prohibiting Croughton from cashing in on the loan. The Appeals Court unanimously reversed.
See also
References
↑ Daniel Call, Reports of Cases Argued and Adjudged in the Court of Appeals of Virginia, 3rd ed., ed. Lucian Minor. (Richmond: A. Morris, 1854), 3:70.