Cowles v. Brown
From Wythepedia: The George Wythe Encyclopedia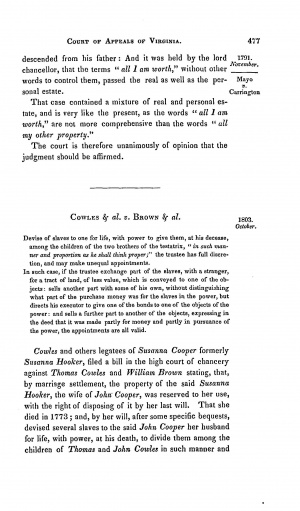 Cowles v. Brown, 8 Va. (4 Call) 477 (1803), [1] was a case determining whether a father, who agreed in his marriage settlement to divide his wife's slaves among his children how he saw fit, could in turn sell those slaves for a profit.
Background
Susanna Cooper (formerly Susanna Hooker) and her husband John Cooper entered into a marriage agreement.The terms of the agreement devised several slaves to John, upon Susanna's death. According to the agreement, John was to divide the slaves among his children in any way he felt proper. However, after Susanna died, John sold some of the slaves and bartered others with several people including William Brown. William also happened to be the executor of John's estate. The Cowles and other legatees (legacies) of Susanna Cooper sued Thomas Cowles and William Brown in the High Court of Chancery to regain the slaves.
The Court's Decision
Chancellor Wythe decided that John Cooper's sale of the slaves was valid and dismissed the petition with costs. The Court of Appeals affirmed.
See also
References
↑ Daniel Call, Reports of Cases Argued and Decided in the Court of Appeals of Virginia, (Richmond: R. I. Smith, 1833), 4:477.