Coutts v. Greenhow
From Wythepedia: The George Wythe Encyclopedia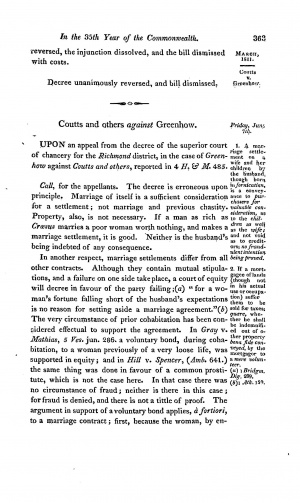 Coutts v. Greenhow, 16 Va. (2 Munf.) 363 (1811), [1] was a property dispute regarding whether the property should go to children born to the parties before the marriage (illegitimate children) per a marriage settlement or to a creditor to disburse debts.
Background
Coutts owed a debt to Greenhow. To recover that debt, Greenhow attempt to foreclose property that was devised to Coutts' children, who were born out of wedlock.
The Court's Decision
Chancellor Wythe decreed that the creditor should be able to foreclose the property. The Court of Appeals reversed.
See also
References
↑ William Munford, Reports of Cases Argued and Determined in the Supreme Court of Appeals of Virginia (New York: I. Riley, 1814), 2:363.