Countz v. Geiger
From Wythepedia: The George Wythe Encyclopedia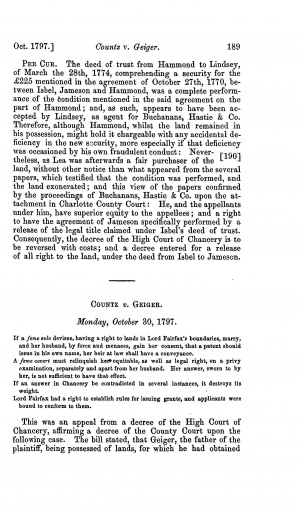 Countz v. Geiger, 5 Va. 189, 1 Call 190 (1797), [1] was a case involving land dispute where the mother of the appellee was forced to give the appellee's stepfather title in the land. The appellee brought this case to recover the land lost.
Background
The father of the Geiger left a warrant for land to his wife. The widow then married Countz, the appellant. After marrying the Geiger's mother, Countz forced her to consent to a patent that would put the land in Countz's name. After his mother died intestate (without a will), Geiger sued to repossess the land, obtain any compensation for the land that had been sold, and gain the rents and profits while Countz was in possession.
The Court's Decision
Chancellor Wythe affirmed in favor of the Geiger. The Court of Appeals agreed.
See also
References
↑ Daniel Call, Reports of Cases Argued and Adjudged in the Court of Appeals of Virginia, 3rd ed., ed. Lucian Minor (Richmond: A. Morris, 1854), 1:190.