Commonwealth v. Ronald
From Wythepedia: The George Wythe Encyclopedia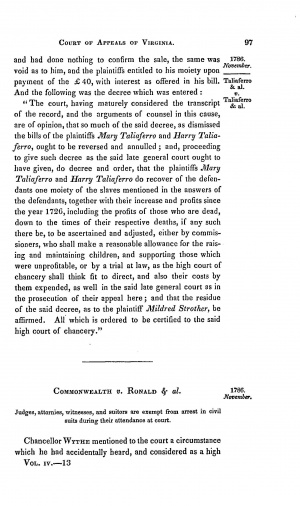 Commonwealth v. Ronald, 8 Va. (4 Call) 97 (1786), [1] was a case where the court determined whether a judge could be arrested for a civil suit while attending court.
Background
After stepping off the bench of the Virginia Court of Appeals, the chief judge of the general court was served process from Henrico County Court. The Chief Judge submitted to the Court of Appeals that a rule should be made against the attorney and staff members and that they should be held in contempt of court. The attorney, Andrew Ronald, stated that he was not aware of a rule where judges could not be served during the sitting of the court. Although he believed a law should be made.
The Court's Decision
Chancellor Wythe stated that a law did not need to be made and this was a privilege to judges, attorneys, witnesses, and parties themselves from the common law of England. The Appeals Court agreed, but dropped the contempt of court charges.
See also
References
↑ Daniel Call, Reports of Cases Argued and Decided in the Court of Appeals in Virginia, (Richmond: R.I. Smith, 1833), 4:97.