Commonwealth v. Colquhouns
From Wythepedia: The George Wythe Encyclopedia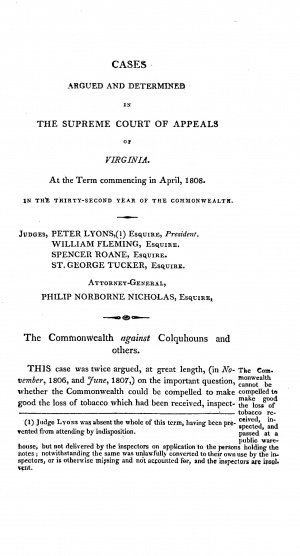 In Commonwealth v. Colquhouns, 12 Va. (2 Hen. & M.) 213 (1808),[1] the court determined whether the state government could be liable for losses incurred at a public warehouse, owned and operated by the state government.
Background
In 1796, the Colquhouns and several other businessmen took a total of 136 hogsheads of tobacco to Barksdale public warehouse for delivery. Barksdale was run and operated by the Virginia state government. Upon delivering their tobacco, the men were given notes as a receipt. Upon inquiring about their tobacco deliveries the men found that not only did the warehouse not deliver their tobacco but the tobacco was no longer in the warehouse. Many of the businessmen sued the warehouse workers (inspectors) but when looking to execute their judgment, they were told the order had "no effects". The businessmen also applied to the auditor of public account to obtain a warrant for the treasury for their loss. However, that plan failed as well.
The Court's Decision
Chancellor Wythe found that the Commonwealth, in compelling its citizens to deposit their tobacco in its warehouses, under its own officers' care for a fee, was responsible for the actions of its workers and to repay the debt. The Commonwealth appealed Wythe's decision to the Court of Appeals, which reversed. Judge St. George Tucker stated that the Assembly only passed a statute making the Commonwealth liable for tobacco destroyed in a warehouse fire, and in no other situation. Tucker stated that Virginia's government probably assumed that the statutory penalty of twice the missing tobacco would deter any would-be crooked inspectors, and that the Assembly did not foresee a situation in which those inspectors became insolvent. Furthermore, Tucker added, Virginia only rented the warehouse from private citizens, and in the absence of a statutory command is no more liable for the inspectors' actions here than it would be for a court clerk who loses a deed through negligence.[2] Judge Spencer Roane added that the statutes' requirements that inspectors be re-appointed annually and that inspectors post a $4000 bond, as well as the fact that the law only required the tobacco to remain in the warehouses for a short time, bolster the conclusion that the Commonwealth should not be liable in this situation.[3] Judges Tucker and Fleming also noted that the tobacco inspection system benefits sellers by guaranteeing the quality of Virginia's product.[4]
See also
References