Clay v. Williams
From Wythepedia: The George Wythe Encyclopedia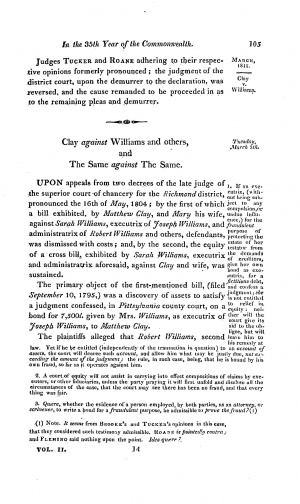 Clay v. Williams, 16 Va. (2 Munf.) 105 (1811), [1] was a case where the court determined whether an executrix, who fraudulently protected the estate of her testator from creditors, could recover in a court of equity.
Background
Matthew Clay sued Sarah Williams praying the Court compel discovery of Sarah' assets to pay a judgment Sarah confessed to in a separate suit. In addition, Matthew requested that the estate of Sarah be settled as to who is entitled to what. Sarah counter-sued the plaintiff for attempting to relieve a judgment obtained by fraud to obtain a claim against the estate of her late husband.
The Court's Decision
Chancellor Wythe dismissed the case and rewarded an injunction to Sarah Williams to restrain Matthew from enforcing his previous judgment. The Court of Appeals reversed and remanded the case to the Court of Appeals for further proceedings.
See also
References
↑ William Munford, Reports of Cases Argued and Determined in the Supreme Court of Appeals of Virginia, (New York: I. Riley, 1814), 2:105.