Cheshire v. Atkinson
From Wythepedia: The George Wythe Encyclopedia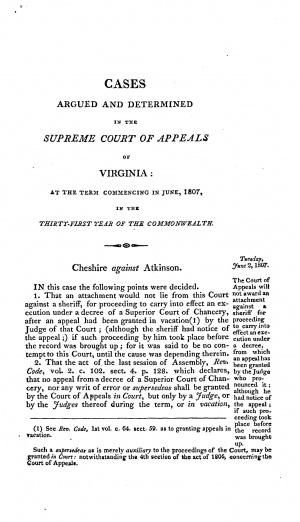 Cheshire v. Atkinson, 11 Va. (1 Hen. & M.) 209 (1807),[1] the court determined whether a sheriff could be attached for carrying out a decree from a judge, although the sheriff knew the case was pending appeal.
Background
A very brief case where the court determined that the plaintiff could not bring an attachment against a sheriff for carrying out a decree from a judge, just because he had notice of an appeal.
The Court's Decision
The Court found the attachment proceeding would not apply against the sheriff.
See also
References
↑ William Hening and William Munford, Reports of Cases Argued and Determined in the Supreme Court of Appeals of Virginia: with Select Cases, Relating Chiefly to Points of Practice, Decided by the Superior Court of Chancery for the Richmond District, 2nd ed. (Flatbush: I. Riley, 1809), 1:209.