Chapmans v. Chapman
From Wythepedia: The George Wythe Encyclopedia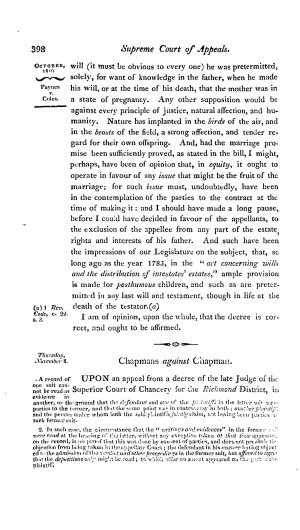 Chapmans v. Chapman, 15 Va. (1 Munf.) 398 (1810), [1] was family dispute involving the execution of a will.
Background
Pearson Chapman was directed by his mother to have her will reauthenticated before additional witnesses. Pearson took a peek at the contents of the will and was angered to find his mother granted her entire estate his brother, George Chapman. Instead of having the will reauthenticated, Pearson destroyed it, keeping his mother's deeded property for himself. George sued Pearson for the will. Pearson retaliated by attempting to evict George through the High Court of Chancery.
The Court's Decision
Chancellor Wythe dismissed the eviction action and granted the land to George Chapman and his heirs. The Court of Appeals unanimously affirmed.
See also
References
↑ William Munford, Reports of Cases Argued and Determined in the Supreme Court of Appeals of Virginia, (New York: I. Riley, 1812), 1:398.