Carter's Ex'or v. Currie
From Wythepedia: The George Wythe Encyclopedia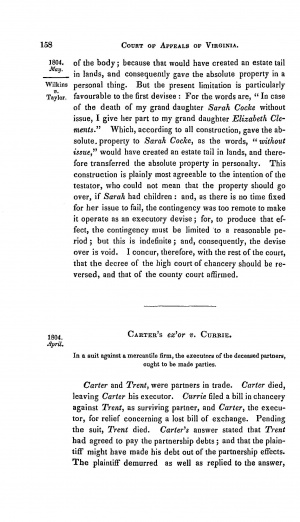 Carter's Ex'or v. Currie, 9 Va. (5 Call) 158 (1804),[1] was a case where the court determined whether both partners of a company are required to be parties in a suit against the business.
Background
Carter and Trent were business partners. After Carter's death, Currie sued Trent and Carter's executor for a business debt. While the suit was pending in Court, Trent died. Carter's executor answered the suit stating that Trent had an obligation to pay the debt. The executor also raised objections to Wythe's jurisdiction. In spite of these objections, a suit was never refiled against Trent's executors.
The Court's Decision
Chancellor Wythe decreed that Carter's executors should pay the debt. The appellate court reversed reasoning the proper parties were not made on the bill. The Appeals Court remanded the case back to the Court of Chancery to allow Currie the opportunity to add Trent's executor's to the suit.
See also
References
↑ Daniel Call, Reports of Cases Argued and Decided in the Court of Appeals of Virginia, (Richmond: R. I. Smith, 1833), 5:158.