Brewer v. Hastie & Co.
From Wythepedia: The George Wythe Encyclopedia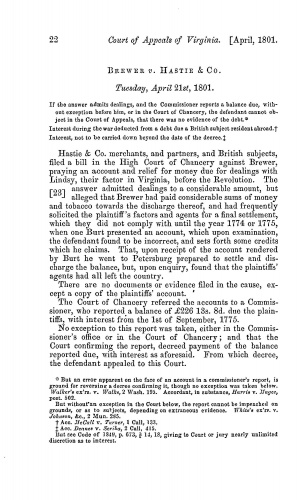 Brewer v. Hastie & Co., 7 Va. (3 Call) 22 (1801),[1] was a case involving a debt incurred prior to the American Revolution and the obligations of the debtor eight years after the Revolution began.
Background
Hastie, a British subject, sued Brewer in the High Court of Chancery for a fairly large tobacco and grain debt. Brewer made multiple payments to resolve the debt and frequently asked Hastie for a final settlement amount. After receiving an inaccurate bill in 1774 or 1775, Brewer went to Petersburg to settle the debt, but discovered Hastie left the country. In 1776, the American Revolution began and Brewer never repaid the debt. Since the petition was previously filed in the Court of Chancery, Chancellor Wythe referred the account to the Commissioner's office. The Commissioner decided that Brewer owed the balance of the bill as well as interest starting from September 1775. Wythe agreed with the Commissioner's findings.
The Court's Decision
Brewer appealed the judgment to the Court of Appeals. The Court found it unreasonable to charge Brewer an eight-year interest on the debt, particularly since it was incurred during a time of war. Instead, the Court determined that Brewer should only pay the cost of the original debt.
See also
References
↑ Daniel Call, Reports of Cases Argued and Adjudged in the Court of Appeals of Virginia, 3rd ed., ed. Lucian Minor (Richmond: A. Morris, 1854), 3:22.