Braxton v. Andrews
From Wythepedia: The George Wythe Encyclopedia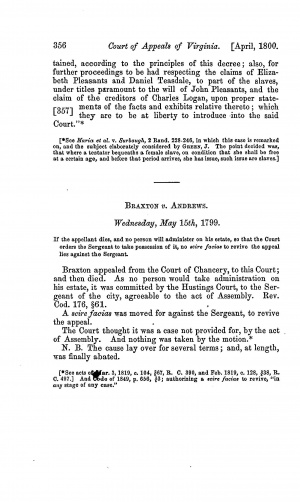 Braxton v. Andrews, 6 Va. 356, 2 Call 357 (1799),[1] was a short case discussing whether a scire facias writ could be ordered against a Sergeant for escheating (reclaiming as state property) an individual's estate.
Background
Braxton appealed from the Court of Chancery to the Court of Appeals, but died before his hearing. Since no one administered Braxton's estate, it was escheated to the city. A scire facias writ (a judicial writ requiring a defendant to appear in court and prove why an existing judgment should not be executed against him or her) was moved against the City Sergeant to revive the appeal.
The Court's Decision
The Court of Appeals dismissed the case.
See also
References
↑ Daniel Call, Reports of Cases Argued and Adjudged in the Court of Appeals of Virginia, 3rd ed., ed. Lucian Minor (Richmond: A. Minor, 1854), 2:357.