Branch v. Burnley
From Wythepedia: The George Wythe Encyclopedia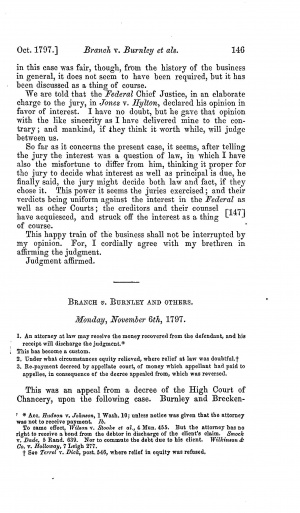 Branch v. Burnley, 5 Va. 146, 1 Call 147 (1797), [1] discussed whether an attorney at law may receive money recovered from the defendant and whether an attorney's receipt could discharge a judgment.
Background
Burnley and Breckenridge hired an attorney, Briggs, to sue the Branch estate for a debt. In 1772, Briggs obtained a judgment on behalf of Burnely and Breckenridge. In 1774, a bond was given, however, in 1778, the Branch estate paid the judgment directly to Briggs, the attorney. After the war in 1787, Branch and Burnley went to court to collect on their bond. The court refused to enforce the judgment due to the pair's nine year delay in enforcing their right to collect the bond. Burnley and Breckenridge appealed to the District Court of Richmond claiming the delay was due to payment of their attorney, who held the bond in his office, rather than direct relief to themselves. The District Court found in favor of Burnley and Breckenridge and the Branch estate appealed to the Court of Chancery. The Branch estate requested an injunction stating that Briggs, as the attorney of the plantiffs, had the authority to accept payment on his client's behalf. Chancellor Wythe agreed and awarded the injunction on the usual terms of releasing all errors at law. Burnley and Breckenridge responded to the judgment by demurring the Chancery Court's jurisdiction.
The Court's Decision
Wythe dismissed the demure for want of equity. The Court of Appeals reversed finding that Wythe did not have jurisdiction over the case. The Court of Appeals also found that Wythe's release of errors decision effectively prevented Burnley and Breckenridge from requesting a substantive appeal on the merits of the case.
See also
References
↑ Daniel Call, Reports of Cases Argued and Adjudged in the Court of Appeals of Virginia, 3rd. ed., ed. Lucian Minor (Richmond: A. Minor, 1854), 1:147.