Bernard v. Hipkins
From Wythepedia: The George Wythe Encyclopedia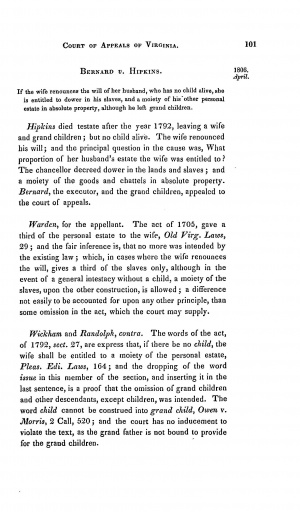 Bernard v. Hipkins, 10 Va. (6 Call) 101 (1806), [1] was a dispute determining whether a wife who renounced the will of her husband, with no children, is entitled to dower in her husband's personal estate, although he left grandchildren.
Background
In 1792, Hipkins died leaving behind a wife and grandchildren, but no children. Hipkins' wife renounced the will, leaving the court to decide what proportion of the estate she was entitled to receive.
The Court's Decision
Chancellor Wythe decided Widow Hipkins would receive a life estate (dower) in land and slaves, plus a portion of goods and chattels in fee simple absolute. Bernard, the executor of the estate, and the grandchildren appealed to the Court of Appeals. The Court affirmed Wythe's decision.
See also
References
↑ Daniel Call, Reports of Cases Argued and Decided in the Court of Appeals of Virginia, 9Richmond: R.I. Smith, 1833), 6:101.