Tim Danielson & Massachusetts General Court Committee Near White Plains to John Hancock, referred to Wythe & Committee, 3 November 1776
From Wythepedia: The George Wythe Encyclopedia
Page 1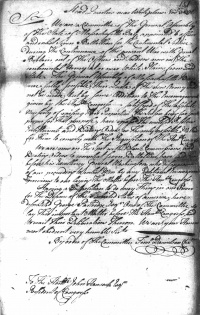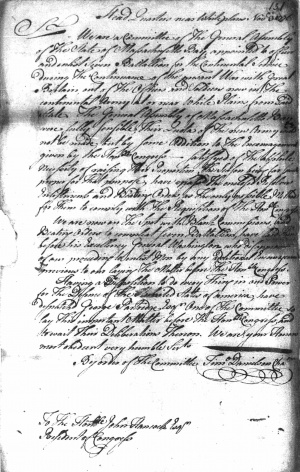 Head Quarters near Philadelphia, Nov 3 1776
Sir,
    We are a Committee of the General Assembly of the State of Massachusetts Bay, appointed to officer and enlist Seven Battallion for the Continental Service during the Continuance of the present War with Great Britain and of the Officers and Soldiers now in the continental Army at or near White Plain, from said State. The General Assembly of Massachusetts Bay were fully sensible, their Quota of the new Army could not be made, but by some Addition to the Encouragement given by the Hon. Congress – satisfied of the absolute necessity of refining this Proposition, the Session hereby for [?] proper for that purpose, have amassed The enclosed the follow enlistments and Beating Orders as the only possible Method for them to comply with the Requisition of the Hon. Congress.
    We are now on the Spot with Blank Commission, and Beating Orders to compleat seven Battallion, have laid these before his Excellency General Washington who disapproved of our proceeding to enlist Men by any additional Encouragement previous to our laying the Matter before the Hon. Congress.
    Having a Disposition to do every thing in our Power for the Defense of the united States of amercia, have dispatched Geroge Partridge Esq. And of the Committee to lay this important Matter before the Hon. Congress, and to wait their Deliberation thereon. We are your Honourable most obedient very humble Servt.s
              By order of the Committee
                        Tim Danielson Cha.
To the Hon. John Hancock Esq.
President of Congress.

Page 2
To
The Honorable John Hancock Esq.
    President of Congress
              Philadelphia

[endorsed]
A letter from Tim Danielson
Chairman of Com. from Massachusetts bay for
Nov. 3. 1776.
Referred to
    J. Wilson
    E. Rutledge
    G. Wythe