Nomotexnia
From Wythepedia: The George Wythe Encyclopedia
by Sir Henry Finch
Nomotexnia

Title page from Nomotexnia, George Wythe Collection, Wolf Law Library, College of William & Mary.

Author
{{{author}}}
Editor
{{{editor}}}
Translator
{{{trans}}}
Published
{{{publoc}}}: {{{publisher}}}
Date
{{{year}}}
Edition
{{{edition}}}
Language
{{{lang}}}
Volumes
{{{set}}} volume set
Pages
{{{pages}}}
Desc.
{{{desc}}}
Location
[[Shelf {{{shelf}}}]]
 
[[Shelf {{{shelf2}}}]]
Sir Henry Finch
author and lawyer, attended Christ's College, Cambridge, graduated with a BA and entered Gray's Inn.
There his legal studies led to the composition (c.1585) of 'Nomotexnia', a brief but ambitious treatise which sought to systematize English common law along Ramist lines, as well as bringing it into closer conformity with the laws of Moses...Nomotexnia; Cestascavoir: un description del common ley Dangleterre solonque les rules del art, a handsome law-French folio with a fulsome dedication to James I, expands the two books of the 1580s manuscript to four, adds copious explanatory material and citations, but drops all explicit reference to remodelling English law along Mosaic lines. [1]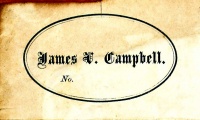 Bibliographic Information
Author: Sir Henry Finch (1558-1625)
Title: Nomotexnia: Cestascavoir, Un Description del Common Leys Dangleterre Solonque les Rules Del Art: Parallelees ove les Prerogatives le Roy. Ovesque Auxy le Substance & Effect de les Estatutes (Disposes en Lour Proper Lieux) per le Quels le Common Ley est Abridge, Enlarge, ou Ascunment Alter, del Commencement de Magna Charta fait 9. H.3. Tanque a Cest Jour.
Published: London: Printed for the Societie of Stationers, 1613.
Edition: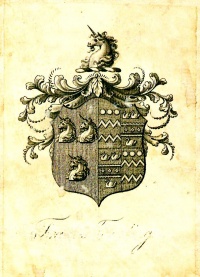 Evidence for Inclusion in Wythe's Library
Thomas Jefferson quoted this specific edition in his commonplace book but no evidence exists that he ever owned a copy.[2] The commonplace entry most likely dates from his period as Wythe's student when Jefferson had ready access to Wythe's library.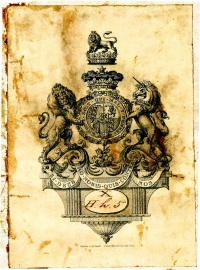 Description of the Wolf Law Library's copy
Bound in early calf, boards embossed with arabesqes. Rebacked and recornered in sheep, with remnants of the earlier back laid down. Purchased from Nostre Livers.

View this book inWilliam & Mary's online catalog.
References
↑ Wilfrid Prest, 'Finch, Sir Henry (c.1558–1625)', Oxford Dictionary of National Biography, Oxford University Press, 2004, accessed 6 June 2013.
↑ Bennie Brown, "The Library of George Wythe of Williamsburg and Richmond," (unpublished manuscript, May, 2012) Microsoft Word file. Earlier edition available at: https://digitalarchive.wm.edu/handle/10288/13433