Lud. Kusterus de Vero Usu Verborum Mediorum Eorumque Differentia a Verbis Activis & Passivis
From Wythepedia: The George Wythe Encyclopedia
Lud. Kusterus de Vero Usu Verborum Mediorum Eorumque Differentia a Verbis Activis & Passivis.: Item Veteres Poetæ Citati ad P. Labbei De Ancipitum Græcarum Vocalium in Prioribus Syllabis Mensura Confirmandum Sententiam: sive Index Vocabulorum in Quibus Anceps Vocalis pro Longa Habenda Est
by Ludolf Kuster
Lud. Kusterus De Vero Usu Verborum Mediorum

Title page from Lud. Kusterus De Vero Usu Verborum Mediorum Eorumque Differentia a Verbis Activis & Passivis, George Wythe Collection, Wolf Law Library, College of William & Mary.

Author
Ludolf Küster
Editor
Edward Leedes
Translator
{{{trans}}}
Published
Londini: Prostant apud J. & J. Rivington ...
Date
1750
Edition
{{{edition}}}
Language
Latin
Volumes
{{{set}}} volume set
Pages
viii, vii, 8-148
Desc.
12mo (17 cm.)
Location
[[Shelf {{{shelf}}}]]
 
[[Shelf {{{shelf2}}}]]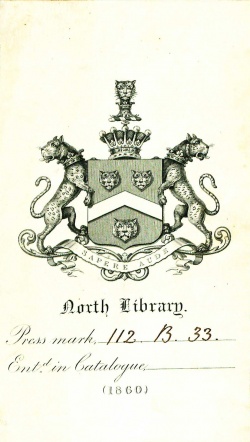 Ludolf Küster (1679-1716) was born in Blomberg in Westphalia.[1] Educated in Germany, and for a short time professor in Berlin, he lived most of his life in Holland.[2]

Küster, a classical scholar and critic, published the journal Bibliotheca Librorum Novorum under the pseudonym "Neocorus" from 1697 to 1699.[3] By 1699, he "was already considered one of the most eminent Hellenists of his day."[4] While living for a brief time in England, Küster edited Suidas's Lexicon and published it in 1705 at Cambridge.[5] In 1716 he "is said to have died of an ailment brought on by sitting constantly doubled up writing at a low table with three or four circles of books around him."[6]

Küster wrote Lud. Kusterus De Vero Usu Verborum Mediorum in Latin on the true use of words by means of active and passive verbs. He cited ancient poets who agreed with his view that Greek vowels in the first syllable were dangerous. The title includes a note that the index is necessary to deal with difficult vowels in the long term.
Evidence for Inclusion in Wythe's Library
Thomas Jefferson sent Wythe a copy enclosed with a letter dated October 24, 1794, "I inclose for your perusal a little treatise by Kuster on the use of the middle voice in Greek. I never saw a copy of it till I met with this, nor had ever heard of it. I presume therefore it may be new to you; & if it gives you half the pleasure it did me, mine will be doubled still." George Wythe's Library[7] on LibraryThing includes the first edition (1750). The Brown Bibliography[8] suggests either the first edition or the tenth (1793). The Wolf Law Library purchased a copy of the first edition.
Description of the Wolf Law Library's copy
Bound in contemporary calf. Includes the nineteenth-century armorial bookplate of the Earls of Macclesfield, Shirburn Castle, Oxfordshire, England on the front pastedown. Purchased from Christopher Edwards.
View this book in William & Mary's online catalog.
References