Jefferson-Peale Correspondence
From Wythepedia: The George Wythe Encyclopedia
Thomas Jefferson to Charles Willson Peale, 22 November 1806
Page 1
| | |
| --- | --- |
| Dear Sir | Washington Nov. 22. 06. |

I recieved your letter of July 2. in due time, & soon after that the apparatus for making the inkpots in mr Hawkins's polygraph moveable, so as to render the dip easy. but in the mean time I had thought of a contrivance which I had executed at Monticello, and which a three months use has proved to be as perfect as it is simple. each inkpot is set in a square saucer of very thin brass, ¼ I. deep, from one corner of which (the left front corner) projects an ear thro which, and the wood a rivet passes thus. [ ] when turned out it is thus [ ] a quarter of a turn brings the inkpot out by it's whole diameter which makes the dip perfectly easy. when done, you push it back again & shut up the machine.

I formerly troubled you with the small polygraph you made for me in order to get it's parallels rectified, because from some cause which I cannot discover the half dozen lines at the top of the copy are an illegible scribble, while in every other part of the page it performs perfectly well. it still has that defect as you will percieve by writing half a dozen lines at the top of the paper in a small light character. it's size is so exactly what I prefer, that if I could get this defect removed, I should value it more than any one I have ever tried: but I apprehend some defect in the parallels so radical as to admit of no amendment but by a new set, the expence of which I will gladly incur, & therefore send it to you by the stage. I by no means wish to have a sliding plate put into it, on mr Hawkins's plan; because where the size is such as to permit a command of the whole page, it is much better as this is. I shall also be glad to have silver penarms & pen cases put to it, but with the adjusting screw without which all these instruments are useless to me. I was
Page 2
obliged to have them put to the small polygraph which mr Hawkins sent me, & with which this letter is written. as soon as you shall, at your own convenience have rectified this machine, be so good as to return it by the stage with the cost of alteration & it shall be remitted.

I have a shade in profile of a very dear friend decd. (Judge Wythe) whose portrait was never taken. it is a compleat whole length of about 6. or 8 I. length. does your art afford any means of copying it exactly and at the same time giving it such tints, by Indian ink or otherwise as would make it more worthy of preservation. my idea is that perhaps it could be made to wear the appearance of a print, exhibiting like that the muscles, features Etc but perhaps that could not be done by guess so as to preserve the resemblance. Accept my friendly salutations & assurances of great esteem.
Charles Willson Peale to Thomas Jefferson, 26 November 1806
Page 1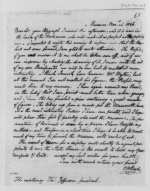 Dear Sir your Polygraph I received this afternoon, and it is now in the hands of the Workman, who will make it as perfect as He possibly can. I expected to write this evening to inform you that the Box had not come forward, I am glad to write otherwise. The Profile, if you enclose it to me shall be taken care off, and if we can improve by shading the drawing of it, I mean with the aid of my son Rembrandt, we will do our best to make it more interresting. I think I must have known Mr. Wythe, but at this moment I do not recollect his figure, the Profile may recall him to my memory. I have again resumed my Pensil, in the belief that I can paint much better than when younger, and I have this day finished a piece containing a great number of figures. The taking up from a marle-pit the Mammoth bones: It is the most interresting Picture I have ever painted, and I hope will please those fond of painting who visit the Museum—The preservation of Animals is done by a person I have taught my methods—and therefore in a short time I hope to be able to devote much of my time to furnish the Museum with works of art.

The want of Room for a display will shortly be a great perplexity to me, the State House is too small to hold my Quadrupeds & Birds.

accept my best wishes for your health;

I am with much esteem your friend

C W Peale

His excellency Tho.s Jefferson president.
Charles Willson Peale to Thomas Jefferson, 13 December 1806
Page 1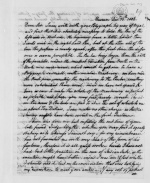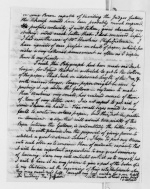 Dear Sir I now write with your Polygraph by way of tryal, and find that it is absolutely necessary to hold the Pen of the left or West side, the beginning bears a little harder than I could wish in the right hand Pen, but at the other end of the line the pressure is nearly equal, after the first line the difference is scarce perceptible. The Pen-bar being longer than the width of the paralells, renders the smallest deviation from truth in the Work more conspicuous, which cannot be got over to have a Polygraph so small, with simular Machinery. we have made the Pivot pieces, connecting the machinery to the Penbar, something more substantial than usial, indeed we have not spared labour or care to make the whole of the Machinery as perfect as possible, and I hope you may find it nearly correct. The silver Pen arms & Pen tubs are put to it—The cost of which to me is about Ten Dollars, I can make no other charge as the Machinery ought to have been correct in the first Instance.

I have also done my best in filling the out line of your late friend Judge Wythe. whether you may find it equally striking as to likeness I cannot say, for my remembrance has not furnished me with any Idea's of the form of his features, therefore it is all guess work—besides I have not had but little practice in the use of Indian Ink, or the execution might have better, indeed I was doubtful whether I should send it, but on the consideration that it was testifying my disposition to meet your wishes—If any sort of portrait
Page 2
or some Person capable of discribing the Judges features the likeness would have been probably much improved, profiles certainly, if well taken, gives characters very striking, indeed much better than I had concieved before I had seen the use of Mr. Hawkin's Physiognotrace—I have upwards of 8000 profiles on sheets of paper, which furnishes a very rational amusement as often as I display them to my friends.

I wish this Polygraph had been made one Inch longer, for I find that it is a stretch to get to the bottom of the paper. That Inch in addional length of the Box, & with narrow hinges, longer paper might be used by pushing it up under the Gallows—my desire to make these Machines very small, has rendered several of them of them of very little use, I do not expect to get rid of some I have on hand—These small sizes would do very well to write on octavo paper, but this is not the practice in America. a size that will admit two widths of this Paper between the Gallows, is undoubtedly the better size.

It is with pleasure I see the proposial of giving power to establish a great National School, I hope to put my Museum into such order as to convince those of moderate capacity that it will be an important acquisition to any great seminary of learning. I am very well contented with it as to myself, but I wish to have it in my power to give a part of the value of it to my Children at the beginning of their establishments: when they may most need help. accept my best wishes for your health,

with much esteem your friend

CW Peale

His excellency Tho.s Jefferson.
Charles Willson Peale to Thomas Jefferson, 14 December 1806
Page 1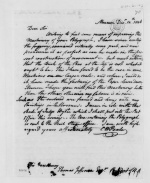 Dear Sir Wishing to find some means of improving the Machinery of your Polygraph, I have since writing the foregoing, examined critically every part, and now pronounce it as perfect as can be made in the present construction of moovement—but must acknowledge that the touch of the Pens at the top is not what it ought to be. This I have found to be the case in some Machines on an larger scale, and where I could do it, have made the fastening of the Paper lower down. However I hope you will find this Machinery better than the other, otherwise my labour is in vain.

Such as the enclosed are framed and hung with my Paintings in the Museum. I mean in role with the shade of Judge Wythe which I shall put into the Post Office this evening. The Box containing the Polygraph is sent to the Mail Stage office. I am with high regard yours affectionately CW Peale

His Excellency

Thomas Jefferson Esq.r President of U.S.
Thomas Jefferson to Charles Willson Peale, 21 December 1806
Page 1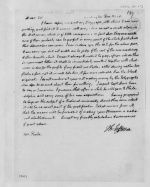 | | |
| --- | --- |
| Dear Sir | Washington Dec. 21. 06. |

I have safely recieved my Polygraph, with which I am now writing, and find it to answer well every where except a small place in the N.W. corner, which is of little consequence. in fact none of them probably can be perfect in every point of the whole field which their dimensions can cover. I now inclose you the 10. D. for the silver pens, & am sorry you did not enable me to judge of the cost of the new machinery & other trouble, which I meant always and wished to pay. if you will do this in your next letter it shall be immediately remitted, together with whatever is due for the profile of my friend mr Wythe. altho' shewing rather too fleshy a face, yet it is well like him, & far more valuable than the black original. I do not wonder at your not making money by the Polygraphs when you do so much about them for nothing. I expect Capt Lewis here to-day or tomorrow. I presume that after a while he will go on to Philadelphia and carry some of his new acquisitions. having proposed to Congress the subject of a National university, should they come into it it will be no small part of the gratification I shall recieve from it, that the means will be furnished of making your Museum a national establishment. Accept my friendly salutations & assurances of great esteem.

Mr. Peale.
Charles Willson Peale to Thomas Jefferson, 24 December 1806
Page 1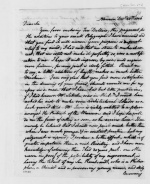 Dear Sir Your favor enclosing Ten Dollars; the payment for the additions to your small Polygraph I have received and that you find it will answer your purpose is a great relief to my mind, I had said that we strove to make it correct, that we could not make it perfectly so, was a mortification to me. I hope it will improve by use; will acquire more freedom, for every joint is closly fitted. Permit me to say, a little addition of length, makes a much better Machine. I am very glad that you find more satisfaction in the drawing of your friend; this well rewards me for my essay in a mode that I have had but little practice in, if I had known Mr. Latrobe was in Phil.a I would have asked his aid to make some architectural Shades as a back ground to it. Mr. Lewis is richly entitled to a place amongst the Portraits of the Museum, and I hope he will do me the favor of sitting as soon as he arrives here. It can scarcely be beleived that I should now paint much better than when I was much younger & in constant practice, but my judgement is ripened; I produce a better effect, which is of greater importance than a neat Pensilling, and I have more knowledge of colouring than I had 30 years past. one other reason in proof of the possibility of my improvement, is having the talents of my Son Rembrandt, who is a Philosopher, a Chimest and a persevering young man, and daily
Page 2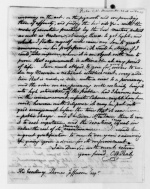 conserving on the art; on the pigments and compounding those of affinity, and finding the best oils &c—with the modes of execution practiced by the best masters, antient as well as Modern, striving thuse to get light, and which I flatter myself will raise my Son to great eminance in his profession, it would be strange if I could not also improve, when it is an object with me to prove that acquirements is attainable at any period of life. I am much obliged to you for your wishes to render my Museum a national establishment, every addition that is made, is done with a view to a permancy, and the order we are persuing will certainly bring it into high estimation with the public. had I known more in the commencement, infinite labour might have been saved, however with diligence it may be put into good arrangement before the time that it can become a public charge. and I beleive it will be easey then to raise it to vast importance, and the donations may equal in value the cost of its annual maintainance. It would be a great gratification to me to see you examining & giving your advice for its improvement.

I am Dear Sir with much esteem

your friend CW Peale

His Excellency Thomas Jefferson Esq.r
See also
External links