Hooe v. Kelsick
From Wythepedia: The George Wythe Encyclopedia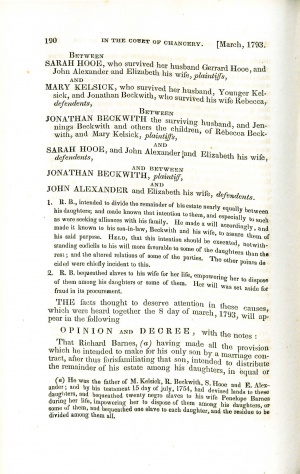 Hooe v. Kelsick, Wythe 190 (1793),[1] involved a dispute over how to divide an estate.
Background
Richard Barnes arranged for his estate to be divided as equally as possible among his four daughters: Mary Kelsick (who married Younger Kelsick), Rebecca Beckwith (who married Jonathan Beckwith), Sarah Hooe (who married Gerrard Hooe), and Elizabeth Alexander (who married John Alexander). Part of the distribution was to happen while Richard's wife, Penelope, was still alive, and the rest was to be distributed after Penelope's death.
Gerrard Hooe, acting as the deceased Sarah's heir, and John Alexander, as the late Elizabeth's heir, asserted that they had rights to greater shares of the Barnes inheritance, referring to three codicils Barnes appended to his testament.
In addition, a will supposedly from Penelope was entered into the record that eliminated Mary's inheritance. The Kelsicks objected to this will, and the Richmond county court rejected it. On appeal, the Virginia Court reversed and admitted the will into evidence.
The Court's Decision
The High Court of Chancery held that the Barnes estate should be divided as evenly as possible among the four daughters, as indicated in Barnes's original will. Because Gerrard Hooe and John Alexander waited almost eight years to claim their extra inheritance according to the codicils, those codicils were now void.
The High Court of Chancery also voided the will that Penelope supposedly wrote. The Court stated that the will appeared to have been obtained through foul methods and manipulation, since it contradicted Penelopoe's previous wishes, took a cheap shot at Younger in the guise of a backhanded apology to Mary for writing her out of the inheritance, and overall read like a document written by someone trying to justify ill-gotten gains rather than the final well-wishes from a mother to her daughter — and the Court could find no evidence for such ill feeling towards Mary from Penelope.
References
↑ George Wythe, Decisions of Cases in Virginia by the High Court of Chancery with Remarks upon Decrees by the Court of Appeals, Reversing Some of Those Decisions, 2nd ed., ed. B.B. Minor (Richmond: J.W. Randolph, 1852), 190.