Foster v. Crenshaw's Exec'ors
From Wythepedia: The George Wythe Encyclopedia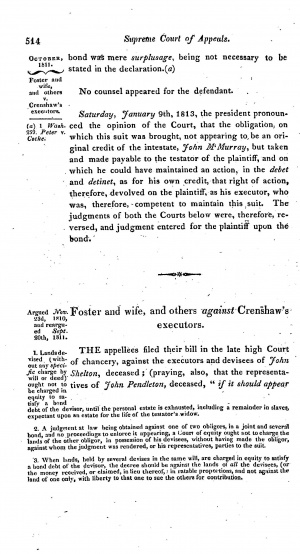 Foster v. Crenshaw's Exec'ors, 17 Va. (3 Munf.) 514 (1811),[1] was a case involving a liability of a contract penalty fee.
Background
John Shelton and John Pendleton entered a contract. The contract detailed that Shelton and Pendleton would deliver certain slaves to Mr. Charles Crenshaw. If they failed to give the slaves, there was a £2,000 gold or silver penalty. Upon failing, a judgment was given against Pendleton to pay about £659. This suit was brought by Crenshaw's executors to execute the penal fee against Shelton's widow (now Anne Foster) since Pendleton's estate was found insufficient to pay the debt.
The Court's Decision
Chancellor Wythe found in favor of the plaintiff. The Court of Appeals reversed the decree in as far as it conflicted with the question of whether Anne Foster sold her land to avoid paying her husband's debt, but affirmed the rest of the opinion. The case was remanded to the Court of Chancery.
See also
References
↑ William Munford, Reports of Cases Argued and Determined in the Supreme Court of Appeals of Virginia, (New York: I. Riley, 1816), 3:514.