Dunn v. Bray
From Wythepedia: The George Wythe Encyclopedia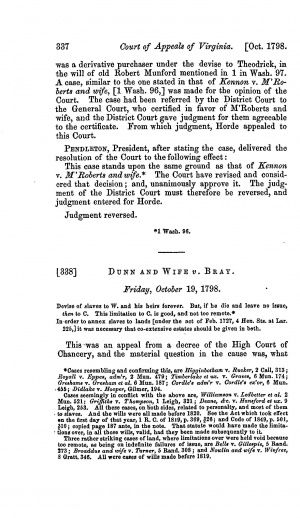 Dunn v. Bray, 5 Va. 337, 1 Call 338 (1798),[1] was a complex trust and estates case, where the court determined who would inherit property after several of the decedent's children died.
Background
On February 24, 1772, Mr. Bray left a will granting land and slaves to his three sons: William, Winter, and Charles. In the will, Mr. Bray stated that upon William's death, William's portion of the will would be given to Winter if William died without issue. He then laid out Winter's estate and stated that if Winter were to pass, Winter's share would be given to Charles if Winter died without issue. William Bray died in 1776. Winter Bray died in 1787 without issue and intestate. This case is a dispute by Mr. Dunn and his wife over whether Charles should take on Winter's portion of the will.
The Court's Decision
Chancellor Wythe decreed in favor of Charles. The Court of Appeals affirmed.
See also
References
↑ Daniel Call, Reports of Cases Argued and Adjudged in the Court of Appeals of Virginia, 3rd ed., ed. Lucian Minor (Richmond: A. Morris, 1854), 1:338.