Declaration of Independence
From Wythepedia: The George Wythe Encyclopedia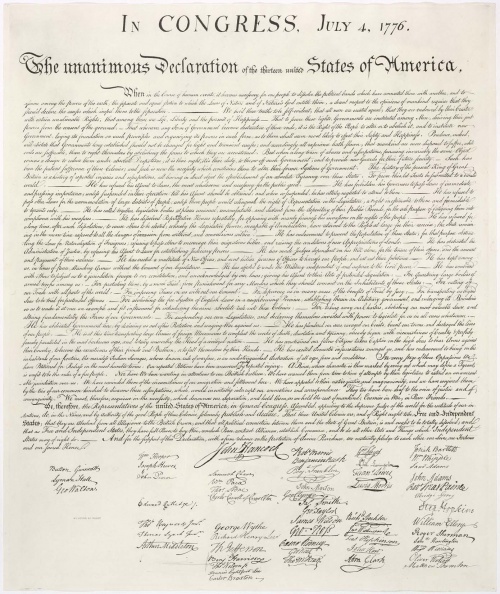 George Wythe signed the Declaration of Independence.
Did he or didn't he?
Historians question whether or not Wythe actually signed the Declaration. In a footnote in his biography of Wythe, Robert B. Kirtland writes, "Wythe wrote out his given name so rarely that [W. Edwin] Hemphill[1] ... doubted the authenticity of an otherwise apparently authentic signature partly, at least, for that reason; the only other example he knew when he wrote was on the Declaration, although others do exist: an indenture deed of 15 June 1753 (Library of Congress, Ambler papers) and an oath of allegiance to King George II, dated 4 June 1750, in a book in [the Library of Congress] recording the oaths of Virginia public officials, reprinted in the Virginia Magazine of History and Biography, LXXV, Jan., 1967, issue 35-51. The question with respect to the signature on the Declaration is its position: large and not crowded, it is the first of the Virginia Delegation's signatures, and one can hardly imagine such worthies as Carter Braxton or R. H. Lee leaving Wythe a generous space at the head of the list. Moreover, all the examples in which George is written out, noted above, are from very early in his adult life, if we except the Declaration and a form letter sent out in October, 1775, by a Congressional committee on which Wythe served; several copies are in the Massachusetts Historical Society (Warren-Adams Papers, 1767-1822), and they were surely signed by a clerk with a skill not uncommon then for imitating the hands of the principals; even in that leisurely era, Wythe, John Adams, and Silas Deane were very busy men.[2]
See also
References
↑ William Edwin Hemphill, "George Wythe the Colonial Briton: A Biographical Study of the Pre-Revolutionary Era in Virginia" (PhD diss., University of Virginia, 1937).
↑ Robert B. Kirtland, George Wythe: Lawyer, Revolutionary, Judge (New York: Garland Publishing, 1986), 108, note 36.