Complaint, Moore v. Downs, March 1748
From Wythepedia: The George Wythe Encyclopedia
Complaint in the case of Anne Moore v. Henry Downs, March, 1748. Image from Goldberg Coins and Collectibles.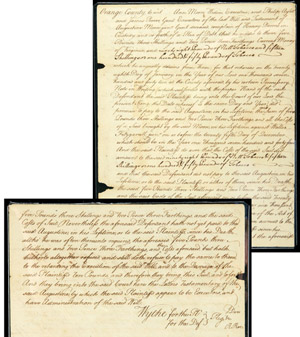 Document Text, March 1748
Page 1
Orange County to wit Ann Moore Widow, Executive, and Philip Aybell and James Perver, Gent. Executors of the last Will and Testament of Augustine Moore just Gent. deceased, complain of Henry Downs in Custody and so forth of a Plea of Debt, that he render to them five Pounds three Shillings, and five Pence Three Farthings Current Money of Virginia and ninety eight Pounds of Nett Tobacco and fifteen Shillings or one hundred & fifty Pounds of Tobacco which he unjustly detains from them; for that whereas on the twenty eighth Day of January, in the Year of our Lord on Thousand seven hundred and forty two, at the County aforesaid, by his certain Promissory Note in Writing which subscribed with the proper Hand of the said Defendant the said Plaintiffs bring into the Court of our Land the present King, the Date whereof is the same Day and Year did promise to pay to the said Augustine, in his Lifetime, the said Sum of five Pounds three Shillings and two Pence three Farthings, and all the Costs of a Suit brought by the said Moores on his lifetimes, against Waller Fitzgarrett.