Commonwealth v. Bristow
From Wythepedia: The George Wythe Encyclopedia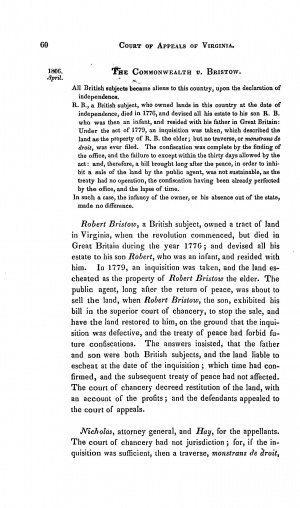 In Commonwealth v. Bristow, 10 Va. (6 Call) 60 (1806),[1] the court determined whether a British subject, who owned devised land to his son prior to the Revolutionary war, could have that land escheated by the new American government.
Background
Robert Bristow, a British subject, owned a tract of land in Virginia before the Revolutionary war began. However, in 1776 Bristow passed away leaving the land to his underage son Robert Bristow Jr. In 1779, the land was investigated and escheated to the new American government. Long after the return of peace, the public agent was going to sell the land when Robert Bristow Jr. sued in the Superior Court of Chancery. Bristow asked the Court to stop the sale and restore the land back to him claiming that the inquisition was defective and that the treaty of peace between Britain and America forbade future confiscations. Opposing counsel argued that both Bristows were British subjects and at the time the land was acquired, it was not subject to the treaty of peace.
The Court's Decision
Chancellor Wythe found for Robert Bristow and decreed the land should be returned. The Appeals Court reversed the case and dismissed the petition.
See also
References
↑ Daniel Call, Reports of Cases Argued and Decided in the Court of Appeals of Virginia, (Richmond: R. Smith, 1833), 6:60.