Clarke v. Conn
From Wythepedia: The George Wythe Encyclopedia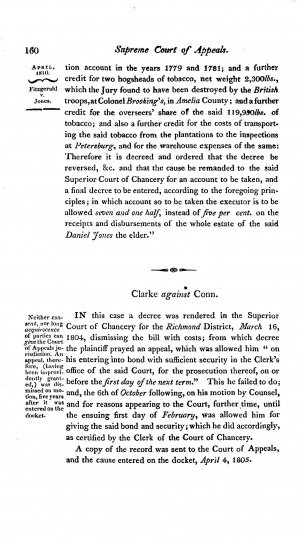 Clarke v. Conn, 15 Va. (1 Munf.) 160 (1810),[1] was a case where the Court of Appeals determined whether it had jurisdiction to hear a plea.
Background
Chancellor Wythe dismissed the original case with court costs. However, the plaintiff sought an appeal which required a security be paid to the court clerk. The plaintiff failed to make that deadline but a motion was granted by the court to allow the plaintiff to submit his bond and security at a later date. After the appeal was docketed for almost 5 years, the defendant submitted a motion dismissing the case for being improvidently (mistakenly, misleadingly) granted.
The Court's Decision
After a hard deliberation, the Court of Appeals also dismissed the case for lack of jurisdiction.
See also
References
↑ William Munford, Reports of Cases Argued and Determined in the Supreme Court of Appeals of Virginia, (New York: I. Riley, 1812), 1:160.