"Called Him a Faker When Gaslight was First Shown"
From Wythepedia: The George Wythe Encyclopedia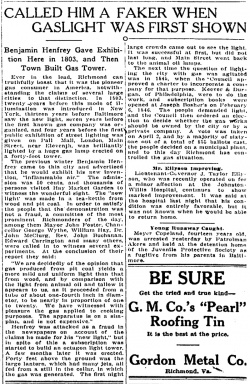 A 1913 Richmond, Virginia, Times Dispatch article acknowledges Benjamin Henfrey's innovative use of gas years before others. It identifies George Wythe as one of the "prominent Richmonders" of that time in supporting Henfrey's discovery.[1]
Article text, 13 October 1913
Page 10
CALLED HIM A FAKER WHEN GASLIGHT WAS FIRST SHOWN

---

Benjamin Henfrey Gave Exhibition Here in 1803, and Then Town Built Gas Tower.

Ever in the lead, Richmond can truthfully boast that it was the pioneer gas consumer in America, notwithstanding the claims of several large cities to that distinction. In 1803, twenty years before this mode of illumination was introduced in New York, thirteen years before Baltimore saw the new light, seven years before the first known gas company was organized, and four years before the first public exhibition of street lighting was given on Pall Mall, London, Main Street, near Eleventh, was brilliantly lighted by a huge gas lamp erected on a forty-foot tower.

The previous winter Benjamin Henfrey came to this city and advertised that he would exhibit his new invention, "inflammable air." The admission was 50 cents, and thousands of persons visited Hay Market Garden to witness the wonderful sight. The "new light" was made in a tea-kettle from wood and pit coal. In order to satisfy the people that the demonstration was not a fraud, a committee of the most prominent Richmonders of the day, among them Mayor John Foster, Chancellor George Wythe, William Hay, Dr. John McClurg, Rev. John Buchanan, Edward Carrington and many others, were called in to witness several experiments. At the conclusion of their report they said:

"We are decidedly of the opinion that gas produced from pit coal yields a more mild and uniform light than that from wood, and by comparison with the light from animal oil and tallow it appears to use, as it proceeded from a tube of about one-fourth inch in diameter, to be nearly in proportion of one to twenty. We have witnessed with pleasure the gas applied to cooking purposes. The apparatus is on a simple plan, and is not expensive."

Henfrey was attacked as a fraud in the newspapers on account of the claims he made for his "new light," but in spite of this a subscription was started to build an octagon light tower. A few months later it was erected. Forty feet above the ground was the large lantern, which had many jets, all fed from a still in the cellar, in which the gas was generated. The first night large crowds came out to see the light. It was successful at first, but did not last long, and Main Street went back to the animal oil lamps.

The next time the question of lighting the city with gas was agitated was in 1845, when the Council approved a charter to incorporate a company for that purpose. Keever & Durgan, of Philadelphia, were to do the work, and subscription books were opened at Joseph Bosher's on February 6, 1846. The people demanded light, and the Council then ordered an election to decide whether the gas works should be owned by the city or by a private company. A vote was taken on April 2, and by a majority of sixty-one our of a total of 855 ballots cast, the people decided on a municipal plant, and to this day Richmond has controlled the gas situation.
See also
References
↑ "Called Him a Faker When Gaslight was First Shown," Times Dispatch (Richmond, VA), 13 October 1913, 10.
External links