Browne v. Turberville
From Wythepedia: The George Wythe Encyclopedia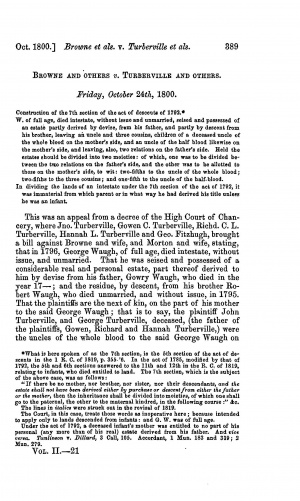 Browne v. Turberville, 6 Va. (2 Call) 389 (1800),[1] was a case involving the distribution of an intestate estate.
Background
George Waugh inherited from his deceased father and brother a large estate in both real and personal property. However, in 1796, George Waugh died without a wife or a will. The plaintiffs, Jno., Gowen, Richard Turberville, Hannah Turberville, and George Ftizhugh were Waugh's uncles and aunts on his mother's side. They sued John Browne and others on Waugh's father's side regarding who should inherit the fortune. Both parties prayed the Court to distribute Waugh's estate among them.
The Court's Decision
Quoting from the 1792 Directing the Course of Descents statute, Chancellor Wythe concluded the estate should be divided into two moieties; one to Waugh's mother's side and the other to his father's. Wythe noted the only plausible objection to his interpretation of the statute would be the language in section seven which stated the estate "shall not have derived, either by purchase or descent, from either the father or the mother." After analyzing the legislative history of the statute, Wythe reasoned away this provision asserting that the sections were "taken out of their place, and expounded in a sense not agreeing exactly, if agreeing at all, with their true meaning." To execute his ruling, Wythe appointed commissioners with the following instructions:
"allot one half of one of the said moieties to the defendants George Morton and Hannah his wife, and the other half of that moiety to the defendants John Browne and his wife, and to divide the other moiety into five equal parts, and allot of those five parts, two to the plaintiff John Turberville, two other to the plaintiffs Gowin Turberville, Richard C.L. Turberville, and Hannah L. Turberville, and the remaining part to the plaintiff George Fitzhugh."
Browne and his wife appealed the decree. However, because the judges differed in their reasoning, the Court of Appeals affirmed without alteration.
See also
References
↑ Daniel Call, Reports of Cases Argued and Adjudged in the Court of Appeals of Virginia, 3rd ed., ed. Lucian Minor (Richmond: A. Morris, 1854), 2:389.