Blanton v. Brackett
From Wythepedia: The George Wythe Encyclopedia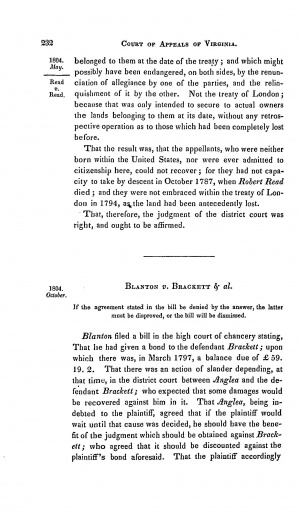 In Blanton v. Brackett, 9 Va. (5 Call) 232 (1804), [1], the court determined whether the plaintiff's response to the defendant's Answer was sufficient to avoid dismissal.
Background
In March 1797, Blanton owed Brackett £59.19 and 2 shillings on a bond. At the time, Anglea, one of Blanton's debtors, had a pending case against Brackett for slander. Anglea promised that if Blanton waited until the case was over, he would give Blanton his judgment. Anglea recovered £100 in damages against Brackett, who subsequently went bankrupt. Brackett secretly transferred Blanton's bond to Redd, who hearing about the deal between Anglea and Blanton through the newspaper, secretly assigned it to Miller. Miller sued Blanton on Brackett's behalf and obtained a judgment. Blanton, then brought this suit against Brackett to obtain an injunction from Miller's judgment.
The Court's Decision
Chancellor Wythe dismissed the case. The Court of Appeals affirmed.
See also
References
↑ Daniel Call, Reports of Cases Argued and Decided in the Court of Appeals in Virginia, (Richmond: R. I. Smith, 1833), 5:232.