Wythe to George Hay, November 1802
From Wythepedia: The George Wythe Encyclopedia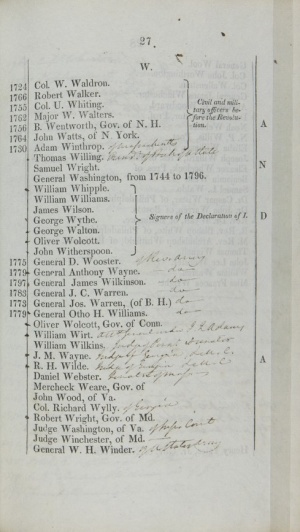 A memorandum dated November, 1802, from Wythe to Judge George Hay (1765-1830), of the United States District Court for the Eastern District of Virginia, inquiring after a report in the case of Wolcott, et al. v. Swan, et al.
The document formed part of the collection of Robert Gilmor, Jr. (1774-1848), a prominent American merchant of Baltimore, Maryland, and collector of art, coins, and autographs.[1] Gilmor made a notation on the reverse.
Letter text, November 1802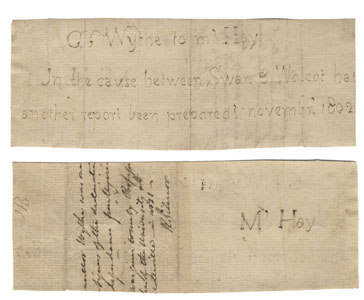 Page 1
G, Wythe to m' Hay

In the cause between Swan & Walcot hath another report been prepared? novemb'r, 1802
Page 2
M' Hay

Chancellor Wythe was one
[of the] signers of the declaration
[of] Independence from Virginia.
[text obscured] was given to me by Professor
[obscured] of the University at
[obscured] lotteville[?] in 1821.                      R. Gilmor
See also
<div style="overflow: hidden;"
</div>
References
↑ Wayne Homren, "Robert Gilmor, Jr. (1774-1848)," E-Sylum 20, no. 23 (June 4, 2017), Numismatic Bibliomania Society, accessed March 5, 2018.