Difference between revisions of "Wythe and Archibald Cary to Henry Laurens, 12 January 1778"
From Wythepedia: The George Wythe Encyclopedia
Line 22:
Line 22:
 
 
 

[[Category:Letters from Wythe]]

 

[[Category:Letters from Wythe]]

 
+
---
Revision as of 08:49, 16 January 2015
Page 1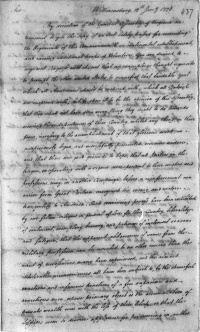 Sir                                       Williamsburg, 12th Jany. 1778
    By direction of the General Assembly of Virginia we transmit to you the copy of an Act lately passed for recruiting the Regiments of this Commonwealth on continental establishments and raising additional troops of Voluntiers. You are desired to acquaint Congress with it, not that an example is thought requisite to prompt the other united States to manifest that laudable zeal which all Americans should be inspired with which all Patriots are inspired with; but to shew it to be the opinion of this Assembly, that they shall not have done every thing they ought to do towards securing the independence of their Country, whilst any thing in their power, necessary to the accomplishment of that glorious work, so auspiciously begun, and successfully prosecuted, remains undone; and that there are good grounds to hope, that all parties in the league, cooperating with a vigour correspondent to their wishes and professions, may, in another Campaign, before a reinforcement can arrive from Great Britain vanquish the enemy and restore tranquility to America. Such convincing proofs have been exhibited by our fellow citizens in general of love for their Country, liberality of sentiment, exemplary bravery, and patience of inclement seasons and fatigue, that the apparent abhorrence of some from the military profession can be ascribed to no other causes than the want of necessaries many have experienced, and the almost intolerable inconveniences all have been subject to, by the shameful exactions and infamous practices of a few rapacious and avaritious men, whose primary object is the accumulation of private wealth even with the loss of their liberty, so that the Soldiers seem to deserve applause for persevering in rather

Page 2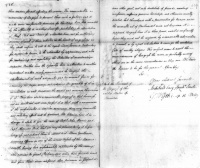 than censure for not affecting the service. The commendable endeavors of Congress to prevent these evils in future, and to make more comfortable provision for the Army, have been seconded by the Assembly in enacting Laws for prohibiting the exportation of Beef, Pork, and Bacon for a limited time, and for authorizing seisures of such of those articles in the hands of engrossers as they shall refuse to sell to the Agents Commissaries or Contractors for moderate prices, to be estimated by appraisers; and also for restraining and regulating the Retailers of merchandize imported. Neither have the Assembly been inattentive to another important matter wisely recommended by Congress, the establishment of such adequate and permanent funds for redeeming the paper money, and reducing the quantity of it in circulation as will preserve the credit and increase the value of it. They have made a considerable progress in that business, and we doubt not will soon perfect it so that with a concurrence of the confederates in similar measures, those very desireable and salutary effects will be produced. We likewise have it in charge to state to you the case of Capt. John Harris and Capt. Alexander Dick, that you may be pleased to lay it before Congress and intreat them to advert to it. These Gentlemen, deserving Officers in one of the armed Vessels of this Commonwealth, having been unfortunately captivated by the enemy, were carried to Great Britain, and, when their friends heard last from them were confined close prisoners in Gosport or some other goal, not only destitute of friends, wanting necessaries, suffering grevious hardships, and otherwise cruelly treated, but threatened with a prosecution for treason under the execrable act of Parliament made not long since. It is supposed Congress have it in their power and it is confidently hoped they need not be conjured, by a seasonable interposition to prevent, or by a just retribution to revenge, the wretched fate of worthy citizens. This subject seems to merit the animadversion of Congress the more, as probably many others are in the same circumstances as they are. We have the honour to be, for the general Assembly,
              Sir,
                   Your obedient Servants.
                   Archibald Cary, Speaker Senate
                   G. Wythe, sp. H. Deleg.
Hand the President of the Congress of the united States of America

Page 3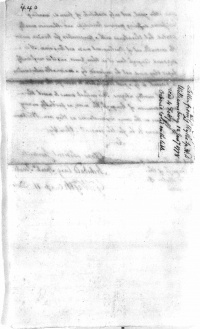 [endorsed]
Letter form G. Wythe Sp. H. D.
Williamsburg 12 Jany. 1778
Read 4 Feby.
Ordered to lie on the table.