Voyage en Syrie et en Égypte : pendant les années 1783, 1784 et 1785 …
From Wythepedia: The George Wythe Encyclopedia
by C.F. Volney
Voyage en Syrie et en Égypte

Title page from Voyage en Syrie et en Égypte, volume one, George Wythe Collection, Wolf Law Library, College of William & Mary.

Author
C.F. Volney
Editor
{{{editor}}}
Translator
{{{trans}}}
Published
Paris: Volland [et] Desenne
Date
1787
Edition
First
Language
French
Volumes
2 volume set
Pages
{{{pages}}}
Desc.
8vo (21 cm.)
Location
Shelf C-2
 
[[Shelf {{{shelf2}}}]]
Constantin-François de Chasseboeuf, count de Volney (1757-1820) was a French historian and philosopher who epitomized the rationalist historical and political thought of the eighteenth century.[1] Volney traveled throughout Egypt and Syria, and upon his return to France wrote Voyage en Syrie et en Égypte (Travels through Egypt and Syria) in 1787.[2] The book chronicles the cultures, history, and languages of the areas Volney visited. Voyage en Syrie et en Égypte "made him famous throughout Europe and Thomas Jefferson purchased it in its second edition soon after publication."[3] Volney met Jefferson, who appreciated Volney's views on enlightenment principles, while the latter lived in Paris as minister to France. They corresponded when Jefferson returned to America, and continued to write each other on topics such as politics and science.[4]
Evidence for Inclusion in Wythe's Library
Listed in the Jefferson Inventory of Wythe's Library as Egypte de Volney. 2.v. 8vo. and given by Thomas Jefferson to his son-in-law, Thomas Mann Randolph. Jefferson sent a copy of the first edition, published in 1787, to Wythe while serving as Minister to France.[5] A copy of the first edition at the University of Virginia includes the signature "T. M. Randolph/ Monticello" on the front boards of both volumes, and "G. W. Randolph" on the verso of the front blank leaf. The only markings possibly linking it to Wythe are the initials "G. W." on the verso of the front blank leaf in volume one. George Wythe's Library[6] on LibraryThing lists the title, while the Brown Bibliography[7] suggests the University of Virginia copy was owned by Wythe. The Wolf Law Library purchased a copy of the same edition.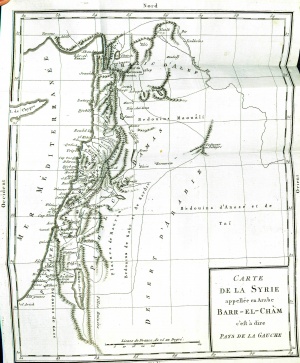 Description of the Wolf Law Library's copy
Bound in quarter calf and marbled paper over boards with spines gilt, contrasting labels of red and green in the second and third compartments. Includes the bookplate of Theophilus Mitchell with the Latin motto "Deo Favente" (With God's favor) on the front pastedown of each volume. Purchased from Wessel & Lieberman Booksellers.
Images of the library's copy of this book are available on Flickr. View the record for this book in William & Mary's online catalog.
See also
References
External Links
Read this book in Google Books