A Treatise of the Principal Grounds and Maximes of the Lawes
From Wythepedia: The George Wythe Encyclopedia
A Treatise of the Principal Grounds and Maximes of the Lawes of This Nation: Very Usefull and Commodious for All Students and Such Others as Desire the Knowledge and Understandings of the Laws
by William Noy
A Treatise of the Principal Grounds and Maximes of the Lawes

Title page from A Treatise of the Principal Grounds and Maximes of the Lawes, George Wythe Collection, Wolf Law Library, College of William & Mary.

Author
William Noy
Editor
{{{editor}}}
Translator
{{{trans}}}
Published
London: Printed by T.N. for W. Lee, D. Pakeman, R. Best, and G. Bedell
Date
1651
Edition
Second, with additions
Language
{{{lang}}}
Volumes
{{{set}}} volume set
Pages
159
Desc.
8vo (15 cm.)
Location
[[Shelf {{{shelf}}}]]
 
[[Shelf {{{shelf2}}}]]
William Noy (1577-1634) was an English barrister who was appointed by Sir Francis Bacon to be an official recorder for the courts of common law. During this time, Noy joined others in an attempt to review English statute law. In 1621 he became a leading figure in Parliament. From 1631-1634 Noy served as attorney general and these three years were marked by controversy.[1] His death in 1634 was received with mixed feelings because while many colleagues held him in high regard, many were displeased by his surly and discourteous personality.[2] "Perhaps his greatest legacy was the learning he passed on to the subsequent generation of lawyers. Among his pupils were Sir Orlando Bridgman, Sir John Maynard, and most notably, Sir Matthew Hale."[3]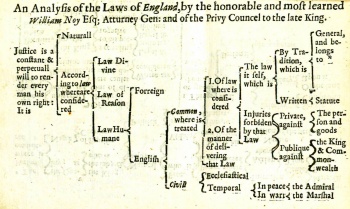 A Treatise of the Principal Grounds and Maximes of the Lawes of this Nation, first published in 1641, was originally written in French and "translated by a person who was neither well acquainted with the language of the work, nor understood the subjects of which it treated. The defective translation continued to be reprinted until [W. M.] Blythewood's edition" in 1817.[4] Noy "was a profound laywer, and his maxims and observations, notwithstanding the disadvantages under which they labored, have always been regarded as 'a collection of reputation and authority.'"[5]
Evidence for Inclusion in Wythe's Library
Brown's Bibliography[6] includes the fourth (1667) edition of Noy's Treatise of the Principle Grounds and Maximes of the Lawes based on quotations in the manuscript copy of John Marshall's law notes. Dean's memo[7] lists the 1641 edition following a reference in Alan Smith's dissertation "Virginia Lawyers, 1680-1776: The Birth of an American Profession" which cites Thomas Jefferson's commonplace book.[8] The Wolf Law Library purchased a copy of the second (1651) edition when an available copy was located.
Description of the Wolf Law Library's copy
Bound in period style full calf with blind rules. Purchased from Meyer Boswell Books.
View this book in William & Mary's online catalog.
References