Travels of Anacharsis the Younger in Greece
From Wythepedia: The George Wythe Encyclopedia
by J.J. Barthélemy
Travels of Anacharsis the Younger in Greece

Title page from Travels of Anacharsis the Younger in Greece, volume three, George Wythe Collection, Wolf Law Library, College of William & Mary.

Author
J.J. Barthélemy
Editor
{{{editor}}}
Translator
William Beaumont
Published
London: G.G. and J. Robinson
Date
1796
Edition
{{{edition}}}
Language
English
Volumes
5 volume set
Pages
{{{pages}}}
Desc.
8vo (22 cm.)
Location
Shelf B-3
 
[[Shelf {{{shelf2}}}]]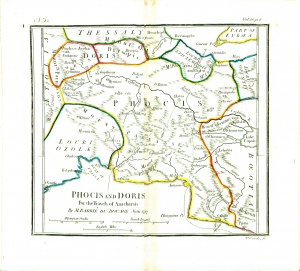 Jean-Jacques Barthélemy
(1716-1795) was a French writer who was especially interested in the classics and
numismatics
[1]
—the study or collection of coins, paper money, and currency in general.
[2]
Barthélemy worked as the Keeper of the Royal Collection of Metals, and continued his post during the French Revolution.
[3]
Barthelemy's most famous work is
Voyage du Jeune Anacharsis en Grèce, dans le Milieu du Quatrième Siècle avant l'ère Vulgaire
(
Travels of Anacharsis the Younger in Greece
), first published in 1788. The four volumes tell the story of a young Scythian man, a descendant of the philosopher in the title, who tours Greece and writes about the customs and idiosyncrasies of each place he visits.
[4]
It is considered a cultural view of Greek civilization, rather than a strict recitation of facts.
[5]
"Recent archaeological discoveries have shown some of the statements to be erroneous, but on the whole the book remains a very successful attempt to diffuse a correct knowledge of Greek manners and customs."
[6]
Barthélemy's signature work was reprinted multiple times, and in several English translations beginning in 1790.
Evidence for Inclusion in Wythe's Library
Listed in the Jefferson Inventory of Wythe's Library as "Anacharsis. Eng. 5.v. 8vo. Eng." Thomas Jefferson gave Wythe's copy to his grandson Thomas Jefferson Randolph. The precise edition owned by Wythe is unknown. English, octavo editions were published in London in 1796 and Dublin in 1795. George Wythe's Library[7] on LibraryThing indicates the London edition as the "[p]robable edition." The Brown Bibliography[8] lists the 1795 Dublin edition based on the existence of a copy of that edition at the University of Virginia with the inscription "T. J. Randolph, Monticello, June 3d 1809, Friday 3d, Edgehill" on the front fly-leaf. This copy also has Thomas Mann Randolph's signature on the front boards of volumes one and two. It has no bookplate or signature definitively linking it to Wythe. Because we do not know the precise edition Wythe owned, the Wolf Law Library purchased an available copy of the 1796 London edition.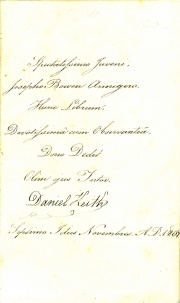 Description of the Wolf Law Library's copy
Bound in contemporary, full speckled calf with raised bands and gilt rules to spine. Features gilt lettering on red morocco title labels and black volume labels. Includes a Latin inscription to Daniel Keith on the front flyleaf of volume one. Purchased from Antiquariat Galerie Joy.
Images of the library's copy of this book are available on Flickr. View the record for this book in William & Mary's online catalog.
See also
References