Thomas Jefferson to Wythe, 26 February 1793
From Wythepedia: The George Wythe Encyclopedia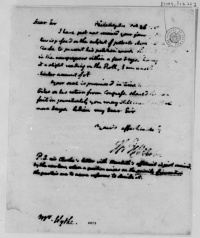 Dear Sir              Philadelphia Feb 26. 1793
    I have just now received your favor of […] law is passed on the subject of patents which […] Clarke to present his petition anew. This […] in the newspaper within a few days. Having […] it a slight reading in the Roll, I am unable […] particular account of it […] Your seal is promised in time […] Giles on his return from Congress. Should the […] fail in punctually you may still more days. Adiu
    My Dear Sir
    Yours affectionately
         Th. Jefferson
P.S. Mr. Clarke's letter within Meredith's affidavit is just received by the new law when a question arises on the priority of invention, the parties are to name referred to decide it.