Reports of Adjudged Cases in the Courts of Chancery, King's Bench, Common Pleas and Exchequer
From Wythepedia: The George Wythe Encyclopedia
by Sir John Strange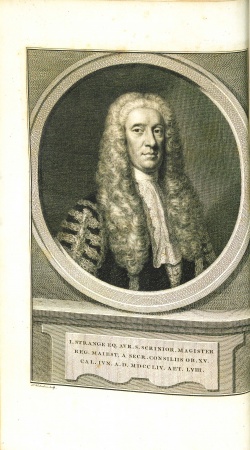 John Strange
(1695 – 1754) studied law under Charles Salkeld
[1]
and was called to the bar in 1618.
[2]
He served in a variety of legal capacities including solicitor general (1737-1742),
Recorder of London
(1739-1742), and
Master of Rolls
(1750-1754).
[3]
Evidence for Inclusion in Wythe's Library
Listed in the Jefferson Inventory of Wythe's Library as "Strange's rep. 1st. vol." and given by Thomas Jefferson to Dabney Carr. Three of the Wythe Collection sources (Dean's Memo[5], Brown's Bibliography[6] and George Wythe's Library[7] on LibraryThing) include the first edition (1658) of Strange's Reports. LibraryThing does include the caveat "Precise edition unknown, although Wythe was likely to have had a volume from the first edition." The Wolf Law Library purchased a copy of the 1658 edition.

Description of the Wolf Law Library's copy
Bound in contemporary calf. Front pastedown, volume one, inscribed "John M. Davenport, Oxford."
Images of the library's copy of this book are available on Flickr. View the record for this book in William & Mary's online catalog.
Full text
See also
References